POWERFUL FEATURES
The intuitive dashboards feature:
Fast Deployment
Deploy the program, complete with reports, dashboards and feedback mechanism in weeks, not months
100+ KPIs in Catalog
A Dashboard and KPI catalog with over 100 Operational, Process, Performance, Financial, and Service Level KPIs
Intelligent Optimizations
Synthesize information and identify data gaps while leveraging Epiq's proprietary data-models
Legal Intelligence
Access to Hyperion Research legal intelligence, benchmarking, and performance data
BIG PICTURE
Quantifying and Conveying the Value of the Legal Department
•Current Department Capabilities: Real-time insight into current activities, reflecting progress against objectives
•Within Reach: Benchmarking for comparative analysis, guiding course-correction
•Ideal Future State: Driving business and legal performance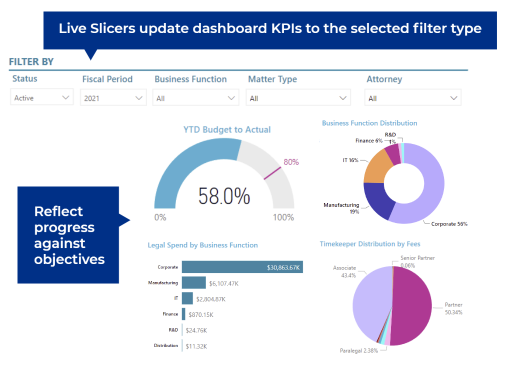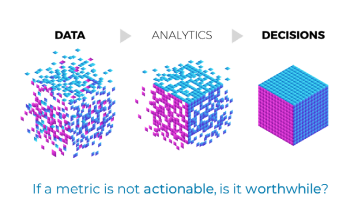 DETAILS
Effective Metrics harness data to provide insights into decision-making
As part of the Metrics that Matter Solution, Epiq's Legal Business Advisory experts deliver a metrics assessment, develop a business intelligence data map, design a fully functional set of operational dashboards, provide training on dashboards, and provide ongoing performance management support.
LEARN
4 Steps to set up a legal ops function for success
What is included in the program?
Metrics that Matter Program includes:
Business Intelligence Data Map
Cross-functional deployment
Access to Hyperion Research benchmarking and performance data
KPI Catalog -Operational, Process, Performance, Financial and Service Level KPIs
Training on dashboards
By the end of the program we deliver a fully functional set of core dashboards leveraging our proprietary models and templates
What types of Metrics are included?
Our focus is on KPIs that are measures of Quality, Outcomes and Return on Investment including:
FINANCIAL
Cost-related measurement, spend management, ROI
OPERATIONAL
Measuring people's performance, balance of resources, organizational culture
PROCESS | EFFICIENCY
Cycle times, disclosure, intake, triage, budgeting
PERFORMANCE
Quality, outcomes, responsiveness, expertise and competency
SERVICE-LEVEL
Measurement of services provided by vendors or service units
What outcomes can we expect?
Real

-

time insight into current activities

Reflect movement toward achieving organizational goals

Guide course

-

correction

Offer internal indices to adjust strategy

Suggest areas for process improvement

Drive performance roadmaps

Benchmarking for comparative analysis